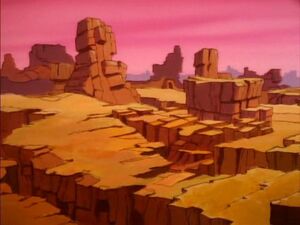 Write the first paragraph of your page here.
Location History
Edit
The Badlands were a region of New Texas inhabited by Dingoes. Few of the Human settlers dared to venture far into the Badlands for they were afraid they'd never make it back out. Even Shaman's Spirit Vision could not reach into the Badlands.
Apart from Dingoes, other dangers included the ominous Sand Vulture and the mechanical Pom-Pom Spider. The Dingo mystic known as the Dingo Llama lived in seclusion in a cave in the Iron Mountains. Because he liked his privacy, Dingo Llama boobytrapped the entire surroundings of his cave.
Appearances
Edit