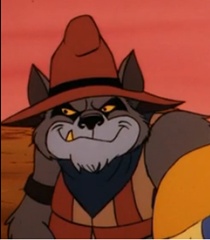 An overweight coyote that usually leads other coyotes in the battle.
Together with several other Dingoes, including Barker, Goldtooth operated a hidden Spin Factory situated just beyond Stone Canyon. There they fabricated the deadly drug called Spin, which they distributed in the Stone Canyon mining camps. Many miners became addicted and quickly lost their minds because of the drugs and had to be restrained by Marshal BraveStarr back in Fort Kerium. In this state, they were known as 'Spin-Heads'. (The Price)
Affiliation
Edit
Dingo
Appearances
Edit
Ad blocker interference detected!
Wikia is a free-to-use site that makes money from advertising. We have a modified experience for viewers using ad blockers

Wikia is not accessible if you've made further modifications. Remove the custom ad blocker rule(s) and the page will load as expected.