*

Judge J.B. McBride, red hair, wearing a black and gray jumpsuit
Vital statistics
Title
{{{title}}}
Gender
Female
Race
Human
Faction
Galactic Council
Fort Kerium, New Texas
Health
{{{health}}}
Level
{{{level}}}
Status
Location
Fort Kerium, New Texas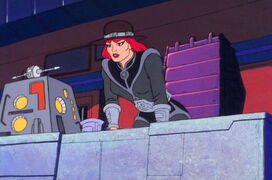 Background
Edit
}The town's female judge and romantic interest for BraveStarr. The two shared a kiss in "BraveStarr the Legend." She came to BraveStarr's aid from time to time, using a high-tech gavel given to her by the Prairie People (referred to as a "hammer" in the series) as a weapon. Her Scottish father Angus McBride was an ex-prospector; he ran the town's newspaper after being crippled by his former mining partner Tex Hex.
Behind the Scenes[1]Edit
Character design by Diane Keener
Appearances
Edit
References
Edit
Ad blocker interference detected!
Wikia is a free-to-use site that makes money from advertising. We have a modified experience for viewers using ad blockers

Wikia is not accessible if you've made further modifications. Remove the custom ad blocker rule(s) and the page will load as expected.