Ryder

Ryder, a human with long eyebrows
Vital statistics
Title
*
Gender
Male
Race
Human
Faction
Dune Buggy Gang
Villains
Health
Not Mention in Show
Level
Not Mention in Show
Status
Not Mention in Show
Location
Badlands
Not Mention in Show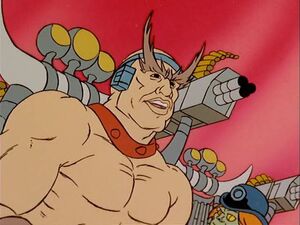 Character Biography
Edit
Ryder was the leader of the Dune Buggy Gang that made the Badlands an unsafe place to be. They often to target Molly's Stratocoach. On one such occasion, Mayor Derringer was aboard with Long Arm John, who helped to thwart the Gang's efforts. The Grateful Mayor then told Marshal BraveStarr to appoint Long Arm as a new Deputy and start a posse to round up the Dune Buggy Gang. (Shake Hands with Long Arm John)
Ryder's personal Dune Buggy, which he referred to as 'Number One', came equipped with several gadgets, including a blow up decoy molded after Ryder himself
Affiliation
Edit
Behind the Scenes
Edit
Ryder was voiced by Alan Oppenheimer
Appearances
Edit
Episode 54: Shake Hands with Long Arm John - Ryder attempted to rob the Stratostage carrying a load of diamond kerium. When a posse came after him, he used a decoy to slip away. But he was derailed and captured as soon as he entered Fort Kerium.
Ad blocker interference detected!
Wikia is a free-to-use site that makes money from advertising. We have a modified experience for viewers using ad blockers

Wikia is not accessible if you've made further modifications. Remove the custom ad blocker rule(s) and the page will load as expected.