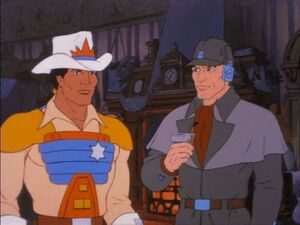 Followed by  Sherlock Holmes in the 23rd Century - Part 2 .
Episode Information[1]Edit
Original airdate: Episode aired 8 February 1988
Director Tom Tataranowicz
Episode Breakdown
Edit
Law Protectors
Edit
Locations
Edit
Equipment
Edit
References
Edit
↑ Mycroft Holmes voiced by Mary McDonald-Lewis http://www.imdb.com/name/nm0568056/?ref_=ttfc_fc_cl_t10#actress
Ad blocker interference detected!
Wikia is a free-to-use site that makes money from advertising. We have a modified experience for viewers using ad blockers

Wikia is not accessible if you've made further modifications. Remove the custom ad blocker rule(s) and the page will load as expected.