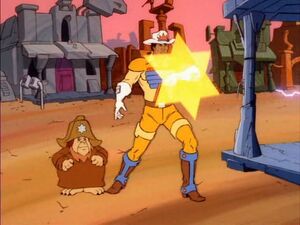 The Starr Shield was one of BraveStarr's primary means of defense, it expands a glowing gold six pointed star.
It also his badge of office, see in BraveStarr and the Law, for he tossed it on Judge J.B. McBride desk in court. When he was told to remove the Shaman from Starr Peak. He used it to cut open a crack to let out the three trapped suns.
Appearances
Edit
Ad blocker interference detected!
Wikia is a free-to-use site that makes money from advertising. We have a modified experience for viewers using ad blockers

Wikia is not accessible if you've made further modifications. Remove the custom ad blocker rule(s) and the page will load as expected.