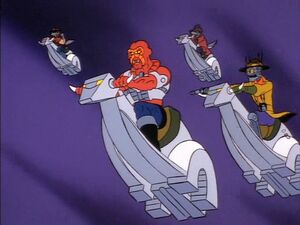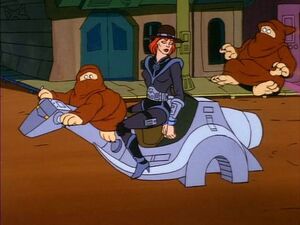 The Turbo-Mule was the most common mode of transport used on the planet New Texas. A repulsor-operating, floating bike shaped like a mule, the vehicle was used by everyone from the human and alien settlers of Fort Kerium, to Outlaw members of the Carrion Bunch and even the lawles Dingoes that inhabited the Badlands.
Molly's Stratocoach was pulled by a single Turbo-Mule and even Marshal BraveStarr would occasinally be required to make use of one if Thirty/Thirty was indisposed.
Some settlers, for instance Judge J.B. McBride rode a variation of the Turbo, which top was shaped like a horse or more accurate, a unicorn. McBride's father, Angus McBride could was unable to mount the vehicle because his legs were crippled. However, his repulsor chair could be attached to a turbo-mule as a sort of sidecar. He was often seen 'hitching a ride' with Doc Clayton in this capasity. (Tunnel of Terror)
Section heading
Edit
Write the first section of your page here.
Appearances
Edit